T500 Plus Smart Watch Bluetooth Call Health Tracker for IOS Android Phone
Support Bluetooth 5.0 call
Case alloy Strap TPU material
Main screen 1.69inch HD IPS, 240*280
Touch screen 2.5D fox surface capacitive full-fit touch screen
Bluetooth push Two-way search
Bluetooth music playback
Control mobile music playback
Call reminder support
Battery specifications and capacity 160MAH high capacity polymer
Waterproof Level: Life waterproof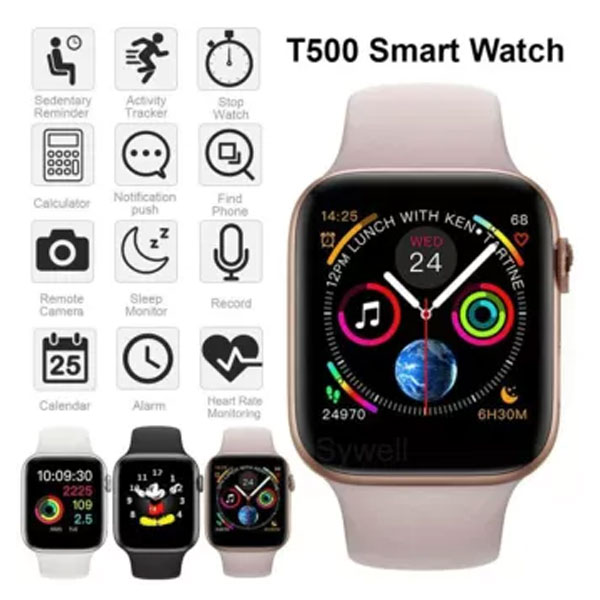 It's designed in a square shape with a 2.5D curved screen on the sides, and a rotatable button works to turn on-off or to the back or change the faces of the watch, And just below the button, you'll find the microphone, addition of holes in the left part, which is the built-in speaker.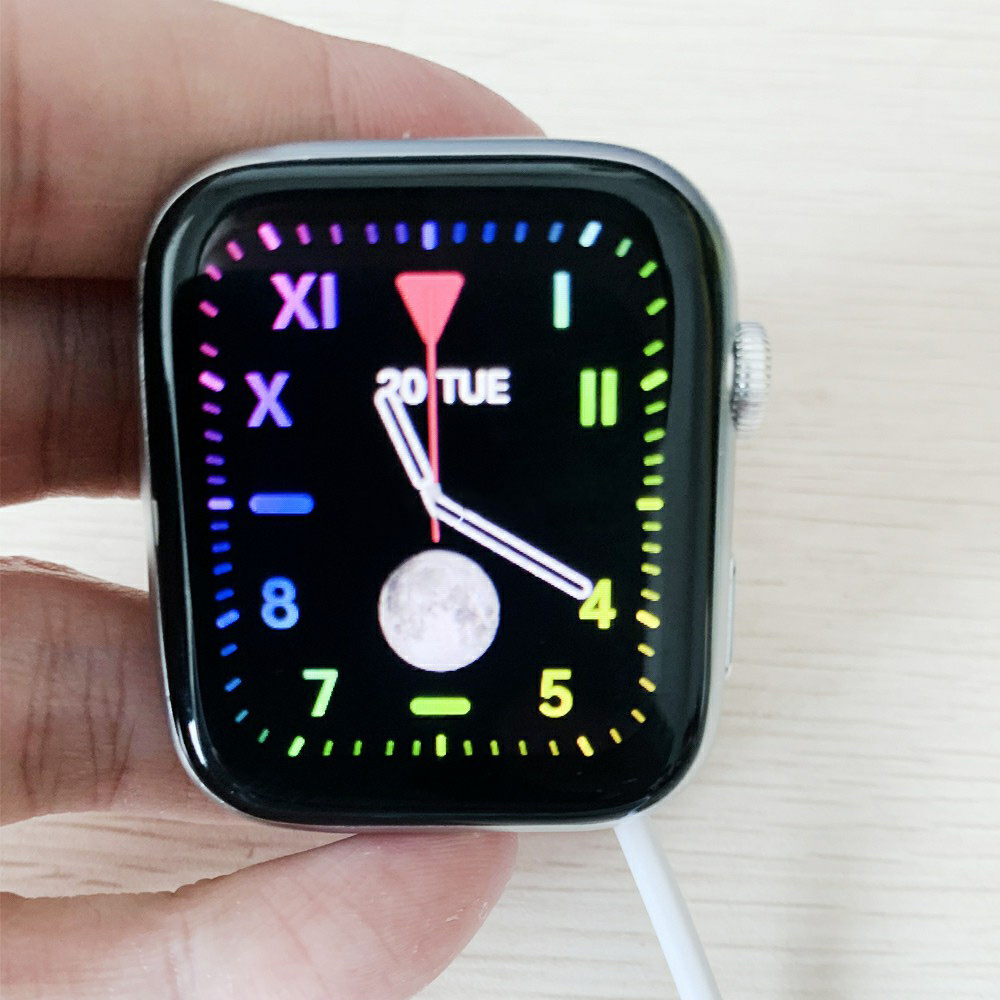 Overall, The body is black made of high-quality metal alloy, It characterized by its large size of 44mm, thickness of 14 mm, and lightweight of not more than 52 grams, which makes it comfortable on the wrist.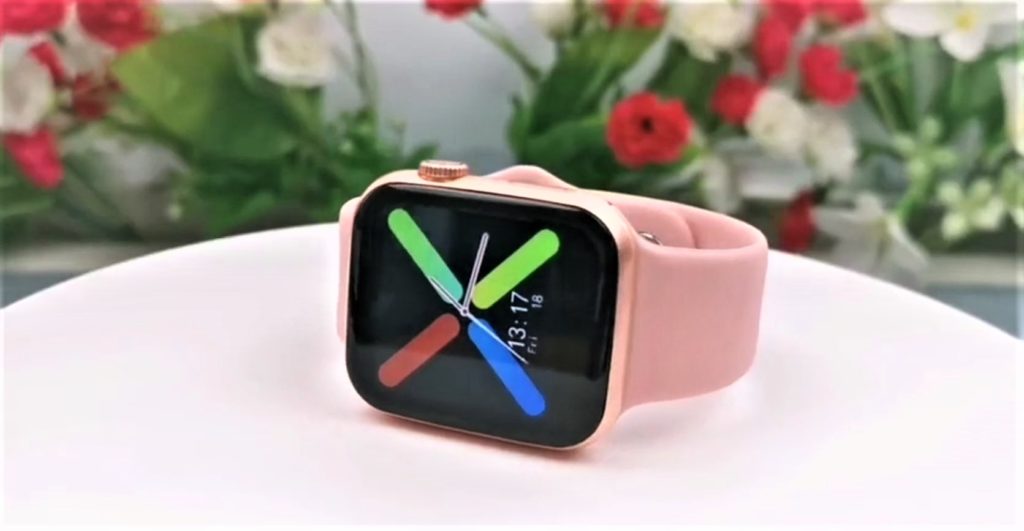 If you look at below you find made from plastic and has charging pins and a sensor, Although it's a budget smartwatch, you will notice the manufacturing quality is high and even the Apple-inspired design is amazing it's one of the best smartwatch clones for the series 6.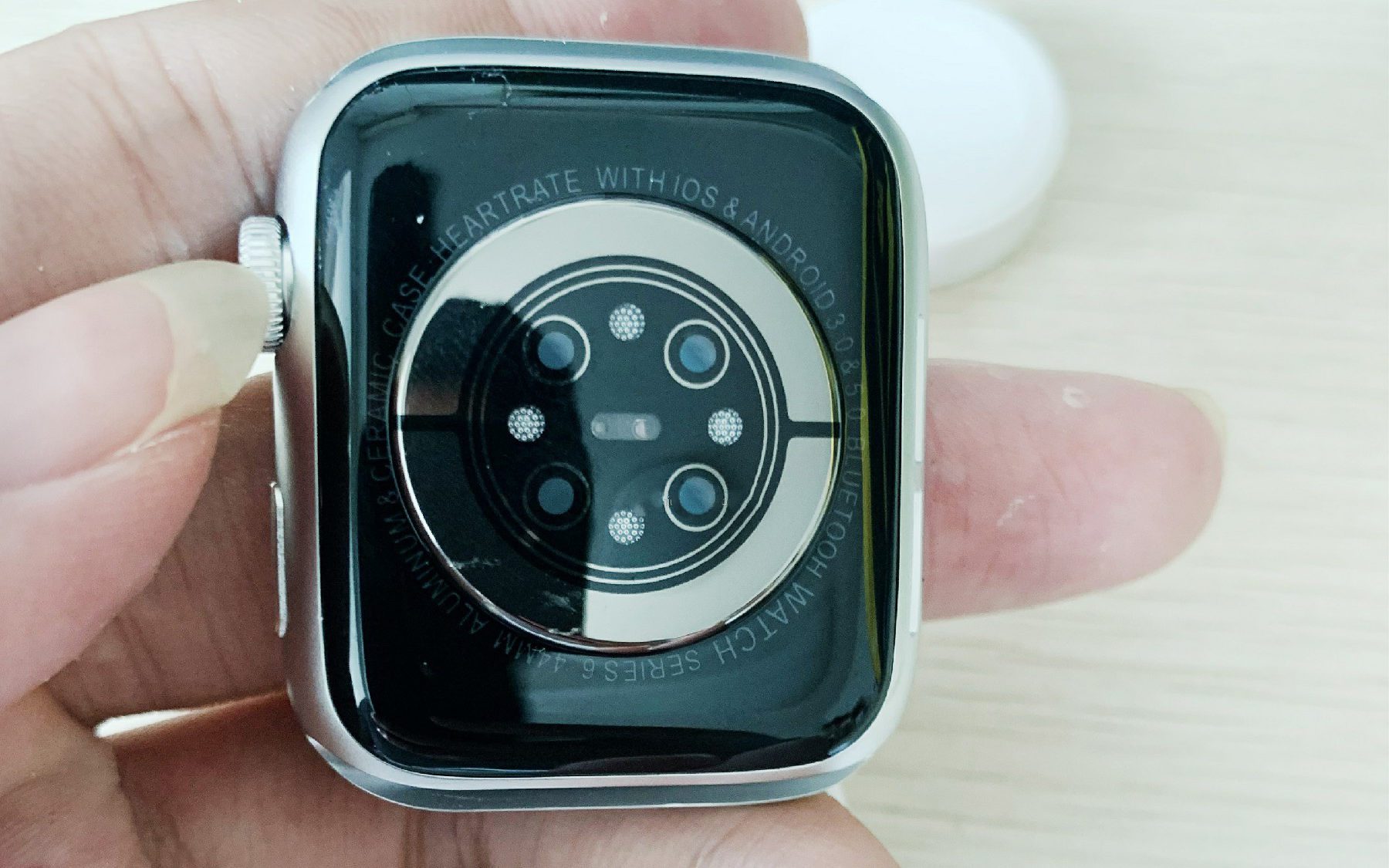 The strap on the T500 Plus smartwatch is made of silicone, lightweight and comfortable on your wrist for long-lasting use. You can use any 42 mm belt because it's removable and is available in Black, Rose gold, White, Blue, Red and you can buy another from metal or leather separately.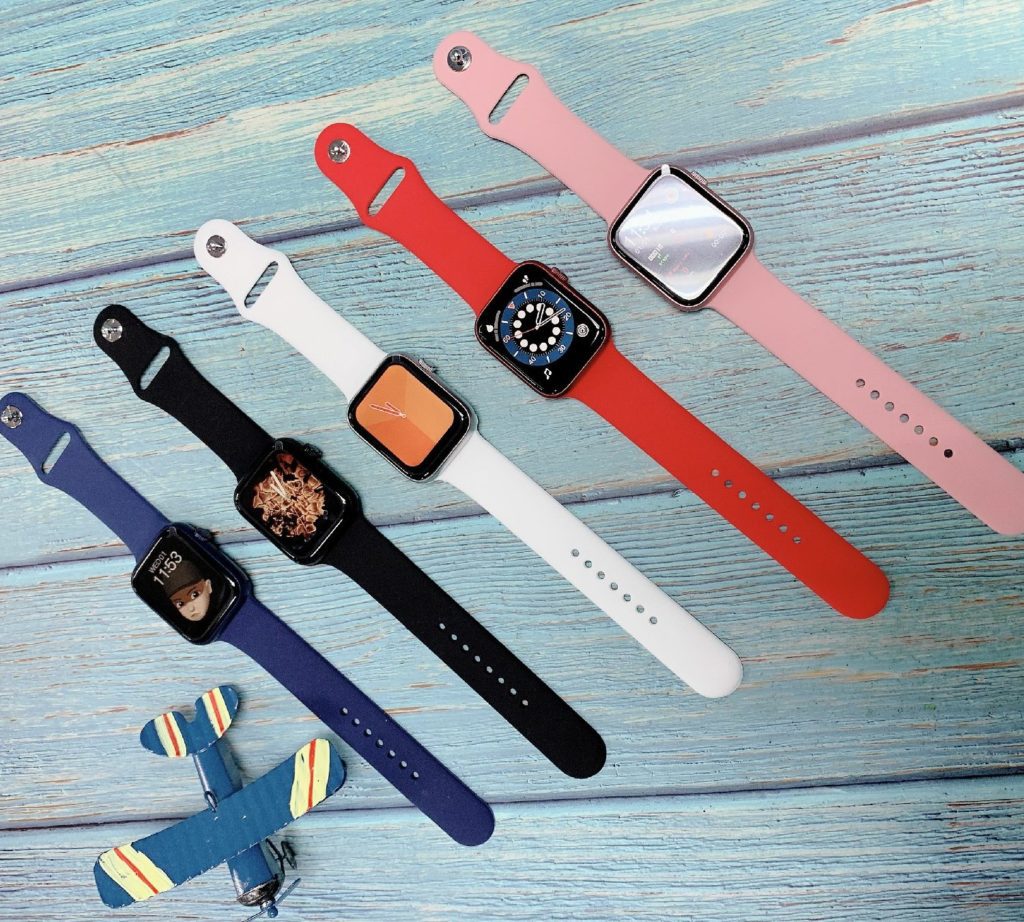 Display Screen:
The screen in T500 Plus Smartwatch is my favorite type, its a large 1.75 inch IPS screen, and 2.5D curved to display better content and details, and because it has a resolution of 320*385 pixels.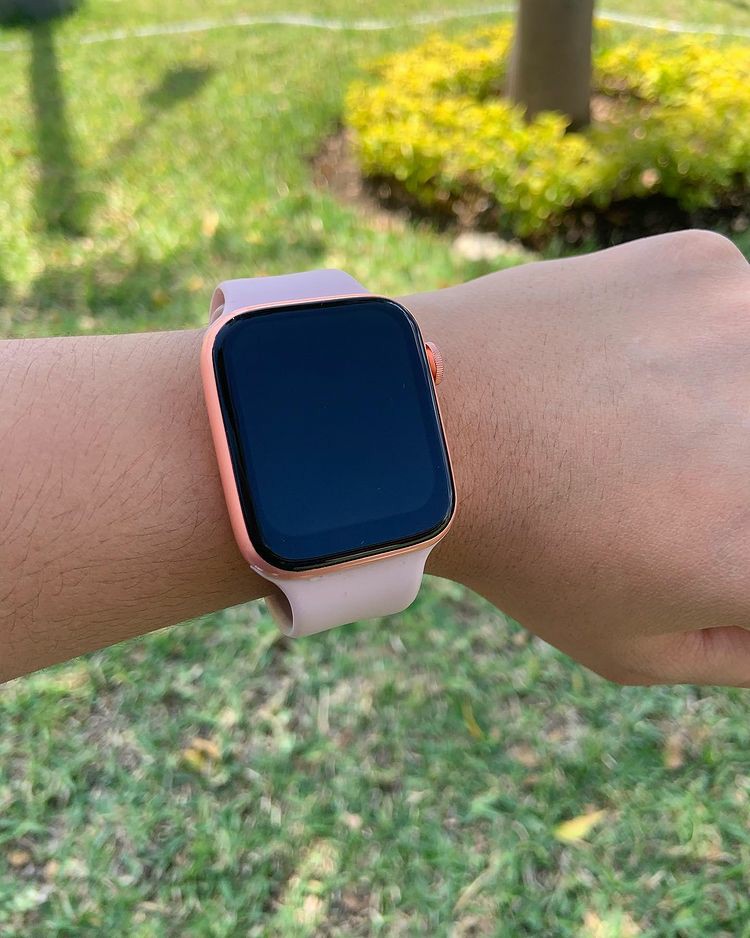 T500 Plus Watch faces:
T500 Plus Smartwatch has 8 different pre-installed watch faces, and you can switch between them easily by swiping from the right on the home screen or via the M2wear app for more watch faces with customization capabilities for a variety of colors, retro, analog, 3D, and digital faces available or you can even use your own photos as a watch face background or any wallpaper.
Waterproof:
With IP67 waterproof in T500 Plus Smartwatch, It means you can wear it while washing hands or on rainy days, although the watch is not approved for swimming but is good for wearing for activities, so, I do not recommend swimming or exposing it to hot water or saltwater to avoid any harm Long or short term. It's preferable to dry the watch after immersing it in water and before operating it so that it stays with you for as long as possible.
Under the hood:
T500 Plus Smartwatch adopts the built-in MTK2502D chip for faster response speed and faster data processing, and it is powered by 32MB ROM so that the watch can be equipped with more watch faces. For your health, this device has Heart Rate Sensor and G-sensor SC7A20, so this wearable device manages your motion every moment and takes good care of you throughout the day.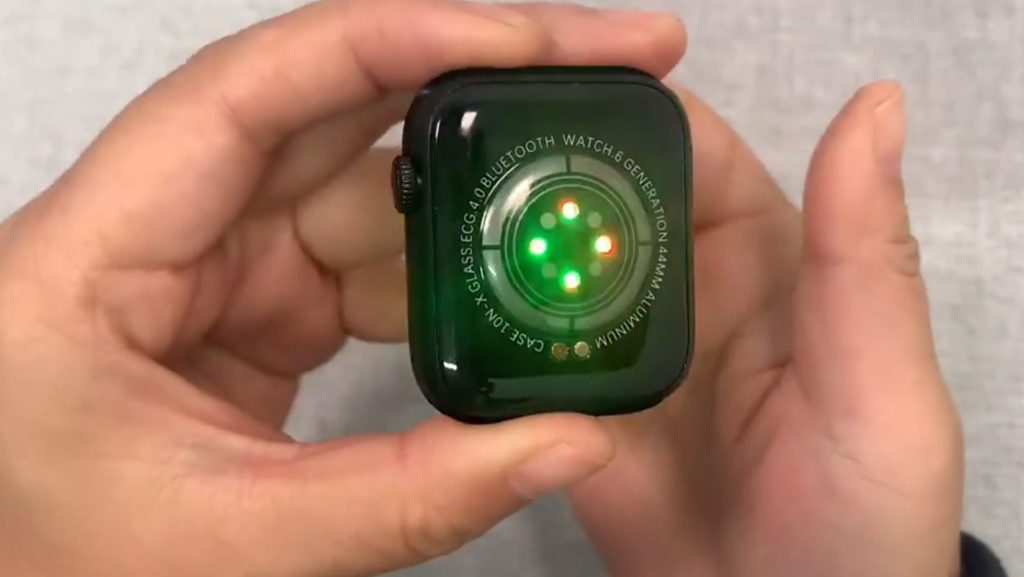 Also, with Bluetooth 4.0 and V3.0 support Bluetooth calls, Yes, the version is considered old. You will not face any problems with it, but it's not the fastest and most stable. And this version is compatible with Android 5.0 and later or iOS 9.0 and above so that the connection is through the M2wear app.
However, it does not have its own GPS sensor, which means that you will always have to use it with a smartphone to get your location.
How to use T500 Plus Smartwatch:
The T500 Plus Smartwatch runs a very easy-to-use platform, and the touchscreen navigation is responsive.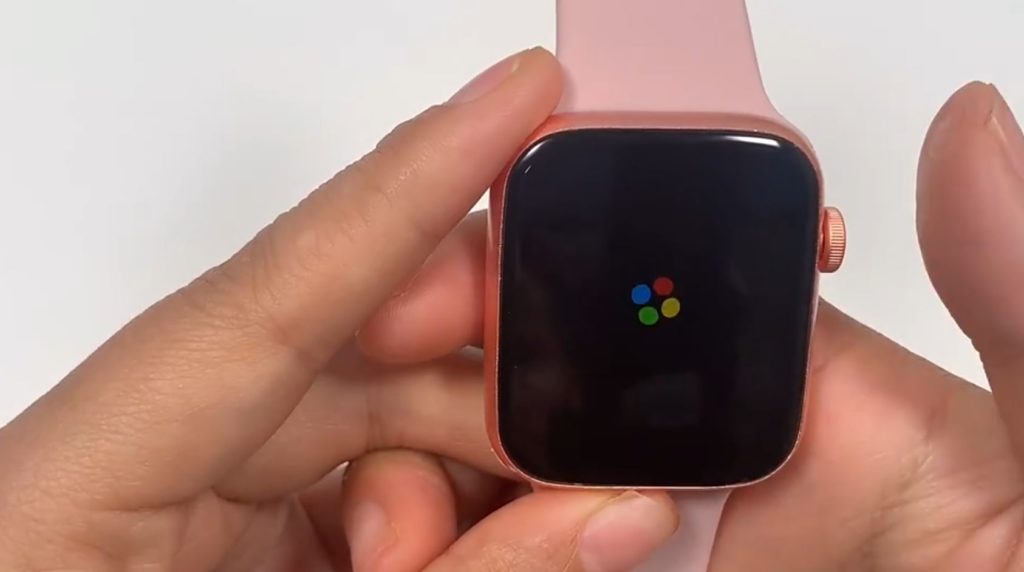 You can access a quick menu when swiping from the bottom that enables you to change the screen brightness, the flashlight, Bluetooth, calculator and you will find the icon to change the appearance of the menus.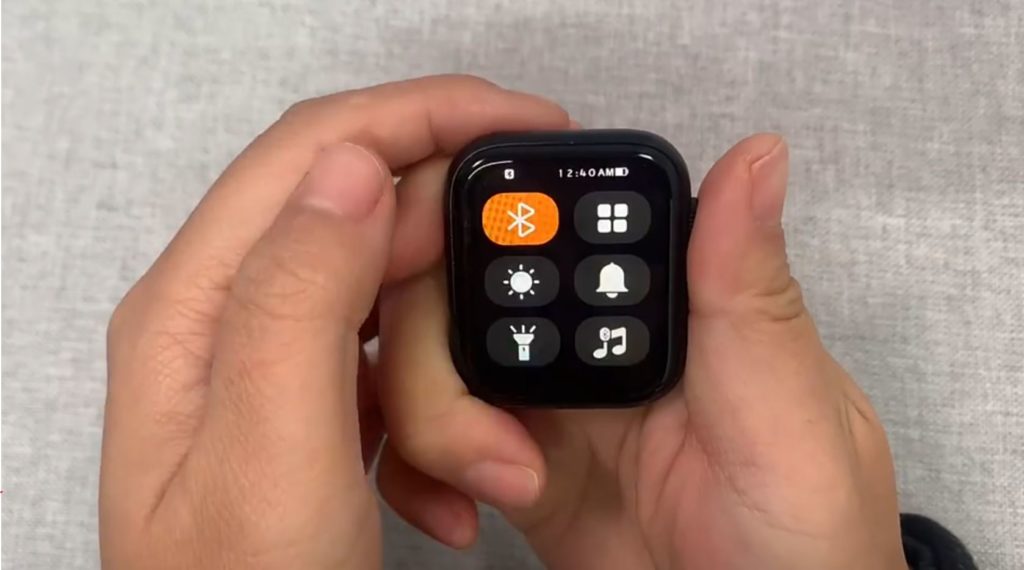 By swiping from the left, A pop-up window will appear on the side with the time, weather, and QR code, and with icons for the last four open applications. It seems that this feature is not present on all versions of T500 Plus.
When swiping from the right, you can switch between 8 different pre-installed watch faces.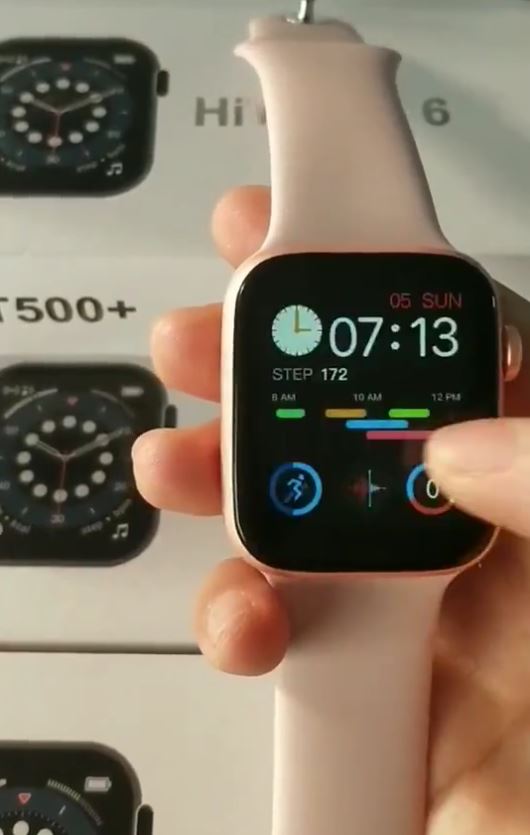 Regarding scrolling from the top, you will see the numbers keypad for making calls.
All that remains is go to the menu by clicking in the center of the main screen and you will find heart rate and sleep monitoring, steps, Date, and other features that include capturing photos from the watch and music, weather, sound recording, even games, and more.
The menu has 4 different styles to suits your taste, one in the form of bubbles icons, such as that we find in Apple watches, another in the form of 4 and 9 grid icons, and the last in the form of a normal List, and the change between them in the quick menu.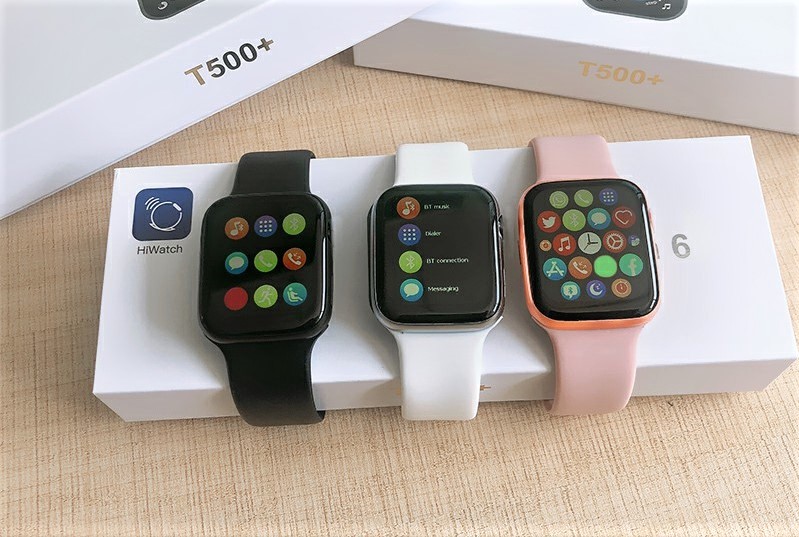 T500 Plus Smartwatch Health & Fitness Functions:
The T500 Plus Smartwatch is equipped with multi-sports modes to suit any of your needs, including running, walking, rope skipping, abdominal curl, table tennis, basketball, badminton, climb, cycling, tennis, and volleyball.
Although it has a good sensor that is more accurate than other sensors, this does not mean that the measurements provided by this smartwatch are completely accurate, as most of them are largely unreliable because it's not a medical instrument, but it makes you very aware of your health and physical performance. unfortunately, this is often the case with watches in this price range.
M2wear app for T500 Plus Smartwatch: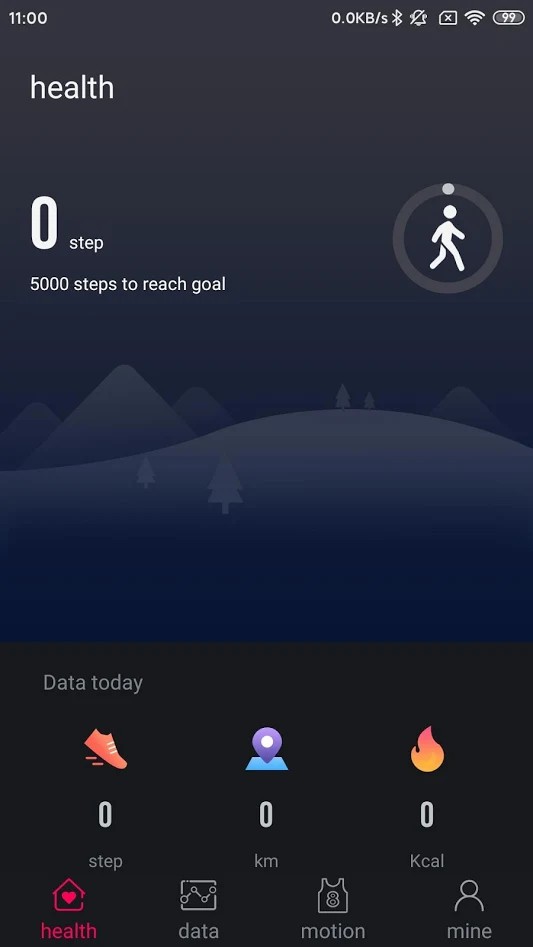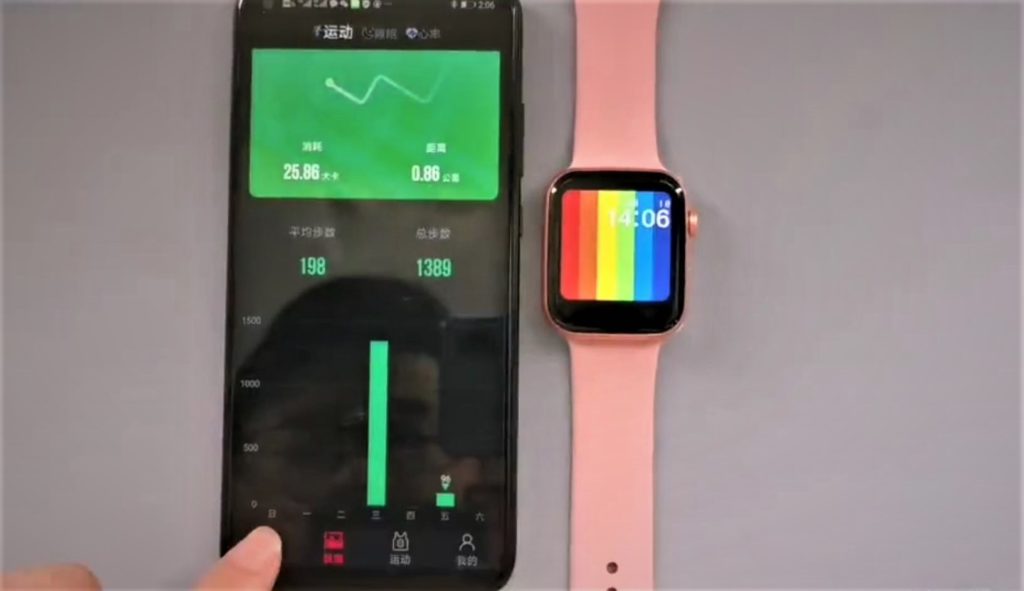 How to pair the T500 Plus Smartwatch to a smartphone:
It's easy to connect the T500 Plus Smartwatch to your phone. After installing the M2wear app and setting it up, all you have to do is add a device, and the phone will search and find the watch in seconds, and you must do that by searching for the Bluetooth.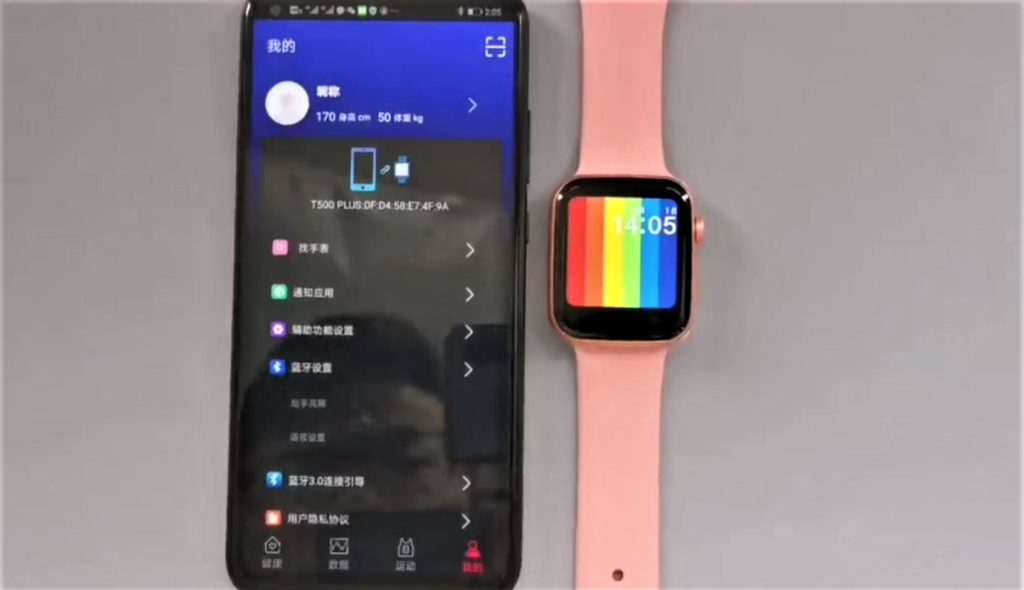 Feature of Making Calls On T500 Plus Smartwatch:
The most important feature of the T500 Plus Smartwatch is that it is equipped with a microphone and a loudspeaker, so it not only displays an incoming call but can also receive and dial calls are made via Bluetooth directly from the watch with HD speakers and mic, and of course, this is done with your smartphone, you will not need to take your phone out of your pocket to answer a simple call.
T500 Plus Smartwatch Battery Life & Charging Time:
In the end, the T500 Plus Smartwatch offers a decent battery that is considered good in this category with a capacity of 195mAh, which gives you up to 5 days of normal use with continuous heart rate tracking. And 30 days in standby mode, it all depends on the type of activities you do, and it must be charged with a dock charger and it takes about two hours.