1: Tokyo, Japan
Despite being such a huge city, Tokyo isn't so overwhelming when you're traveling solo. It's easy to not feel alone when you're totally immersed in a vibrant and buzzing city. There's a lot to see, but even if you're short on time, it's totally worth it!
Tokyo has the best to offer when it comes to nightlife and eating out alone is never awkward. Be sure to check out cute restaurants like Ichiran, where you can eat all the ramen your heart desires, behind a curtain!
Not to worry, getting around Tokyo on public transit is super easy. Check out this guide on planning a Tokyo Self-Tour by Train.
Another main reason why Tokyo is one of the best solo travel destinations in 2020 is because of how polite everyone is! No one stares and people are more than willing to help you if needed!
2: Malta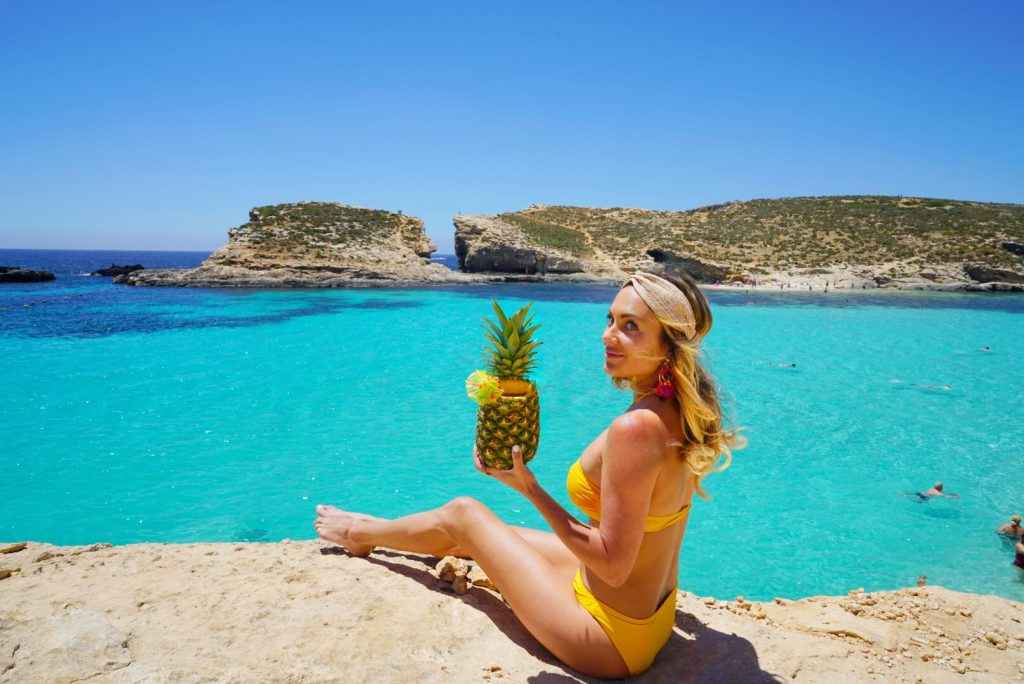 Malta is an adorable little European island near Italy that is highly overlooked! It actually won one of Alyssa's World's Best Islands awards for Best Solo Travel Destinations, so we're adding it here as well!
The island is small enough to navigate on your own by rental car or local buses. You can explore the cute cobblestone towns, or relax all day at the stunning Blue Lagoon featured in the photo above!
If you're looking for a tropical yet charming solo travel adventure, definitely add Malta to your list!
3: Ubud, Bali
If you're looking to ball on a budget while traveling solo, look no further than Bali, Indonesia! PRO TIP: way less expensive to stay in Ubud than nearby Seminyak and less crowded.
Be sure to get all of your Instagram pictures at these spots! And, if you're willing to take the road less traveled, Flores Island is perfect for exploring and taking cute pics with Komodo Dragons!
4: Antarctica 
If you're looking to experience Happy Feet in real life, look no further than Antarctica! Alyssa took a 10-day journey to Antarctica from Buenos Aires with Quark Expeditions and she had the best experience.
Paddleboarding isn't just for tropical climates, and is the perfect way to get up close and personal with the Antarctic wildlife. If you're wondering whether or not you should go on a solo trip to Antarctica, DO IT!
5: Easter Island

Located in the middle of the Pacific Ocean, Easter Island is home to hundreds of Moai, or the head-shaped statues that everyone can recognize. We've cracked the code on how the statues were erected, but not so much on how they were moved.
It's pretty expensive to get to Easter Island, but this tiny gorgeous island with its breathtaking views, bright blue waters, cliffs and palm trees is well worth the visit!
6: Rajasthan, India
Get ready to feel like royalty! Rajasthan is a state in India made up of many different cities, and is known as the land of the royals. If you're looking for a totally different experience from Agra and New Delhi, look no further.
You'll feel like a total princess (and no, you don't need a prince to tag along!) when you visit cities like Jaipur and its forts and palaces, take a camel safari in Pushkar, scope out the blue houses in Jodhpur, or take a gondola on the massive Lake Pichola.
7: Madagascar
If you're an adventurer, then Madagascar is for you! Who wouldn't want to live out their dreams of getting to see real life lemurs?! Lemurs are actually endangered in Madagascar and tourism helps keep conservations and reserves running, so there's your reason to go!
Madagascar is super rugged and unique so you should totally check out the tours of the more untouched areas. If these aren't reasons to pack your bags, Mikea Forest sure is!
8: Iceland
Wanting to cool down a little? Iceland is the perfect getaway for solo travelers. Majestic and otherworldly, Iceland offers the most unreal sights! The best part: you can totally rent a car and drive around to see things for yourself.
Take a self-tour of the South Coast and dive between the continents along the Golden Circle. After a long day, relax and take a dip in the Blue Lagoon, or other natural hot springs!
Don't be afraid to go to Iceland in the winter months, winter in Iceland is just as magical!
9: New Zealand
Roadtripping in New Zealand? Awesome! Roadtrippin in New Zealand by yourself in a campervan? Sign me up!
New Zealand has two main land masses: North Island and South Island. On North Island you've got beaches and lakes with water clearer than the Caribbean, oh, and glow worm caves! On South Island you've got beautiful lakes surrounded by pine trees and a whole lot of sheep.
Check out some must-see stops for a roadtrip on South Island!
10: Egypt

Think traveling to Egypt solo is unsafe? Think again! Tourism in Egypt is on the rise, so you better take advantage of it!
There's a TON to do, so make sure you leave at least a week to see as much as possible. From the Great Pyramids of Giza to the Nile River and its amazing temples, to King Tut's Tomb, you'll be in for an exciting experience! The best part: you can do it all on a budget!
11: Bucharest, Romania

Bucharest has an incredible social scene and is perfect for those solo travelers who aren't afraid to go out on the town and have some fun!
There are a ton of rooftop bars in Old Town where you can try a glass of famous Romanian Blue Wine. There are so many different bars, and when you've had enough to drink, be sure to participate in the street dance parties!
If you're more into sightseeing, there are lots of interesting buildings like the Parliament Palace (the biggest Parliament building in the world) and castles like Bran Castle and Peles Castle. Check out this post to help you plan your stay in Bucharest!
12: Seychelles

Okay, did someone say PARADISE?! The Seychelles is a small group of gorgeous island off the coast of East Africa. La Digue is definitely the best island to visit, with all of the Instafamous beaches and those granite boulders you want to just lounge on.
Besides breathtaking clear blue water and gorgeous beaches, another reason to visit Seychelles are the Coco de Mer trees,  super rare trees that produce massive Butt Nuts!
13: Paris, France

Bonjour, Madame! Another iconic city, Paris has something to offer for all travelers alike, including solo travelers!
Whether you want to see the sights of the Eiffel Tower and the Château de Versailles, ponder the great works at the Louvre Museum, or splurge along the Champs Elysées this city is your oyster!
Why not take a cruise down the Seine River for a few hours? Did you know, there's a Parisian river cruise designed just for millennials?
14: Aruba
Ahhh, the crystal blue waters of the Caribbean are calling your name! Want to get away on a quick flight from the US to absolute paradise? Aruba is the answer.
 15: Croatia

It's definitely not going to be a SHAME if you visit Croatia! Game of Thrones, anyone? Yes, Game of Thrones was filmed in Dubrovnik, but there's so much more to Croatia than that!
If you're able to take a tour around Croatia, preferably by car, visit places like Plitvice National Park, the oldest and largest national park in Croatia. BONUS: is has so many pretty waterfalls! Visit Rovinj and explore the walled city, or the ever-popular Split.
16: London, UK

London is a GREAT place to start solo traveling if you have never done it before. If you're from the US, you'll probably find that it's not as overwhelming as, say, Tokyo.
There are so many things to do in London! Including festivals, the Harry Potter Studio Tour, afternoon tea, boat trips, and even seeing the Prime Meridian.
But you don't have to do the typical touristy stuff! This is how you can skip the basic tourist things and do trendy things in London instead.
17: New York, NY
The city that never sleeps! You don't want to sleep on New York City. It's hard to know where to start, so just start!
You can do really expensive (but worth it) touristy things like the Empire State Building, Freedom Tower, or the Statue of Liberty. Or you can find plenty of free things to do like explore Central Park, or walk the High Line.
You can also see TONS of shows on Broadway. Venture out to the neighborhoods in Brooklyn for a more calm experience, or be an adrenaline junkie and ride a helicopter over the city.
18: Nairobi, Kenya
If you love animals, then a Kenyan Safari is for you! With a little planning ahead, you can book an affordable Kenya Safari trip.
The two main locations for Kenya Safaris are Masai Mara National Park and Lake Nakuru National Park. You'll see all kinds of wildlife, like lions, elephants, hyenas, giraffes, zebras, rhinos, and more!
19: Machu Picchu, Peru
Via the Inca Trail, solo of course! Machu Picchu is a citadel located super high in the Andes Mountains in Peru. It sits 2,430m above sea level and is a Unesco World Heritage Site.
One of the best ways to get to Machu Picchu is by hiking the Inca Trail (the trail terminates at Machu Picchu!). Once there, you'll get a surreal view of the scenery and quickly learn that the intricate terraces, temples, and water systems were built in 1300!
20: Hopkins, Belize

Belize is super underrated! A small (English-speaking) country in Central America, it is home to one of the largest barrier reefs in the world! If you're into snorkeling and diving mixed with a little adventure, Belize is for you!
Hopkins is a small fishing village located in Stann Creek on the southeastern coast. It's home to a bunch of cool resorts, such as the only Belizean owned resort, and an awesome eco-friendly resort! The resorts are great for families but they also offer tours (including Mayan Ruins tours!) for solo travelers.
---
Alyssa Ramos, a full-time, self-made, solo traveler who's been to over 100 Countries, all 7 Continents, 7 World Wonders, 7 Wonders of Nature, plus I recently climbed Mt. Kilimanjaro and dove the Great Barrier Reef!