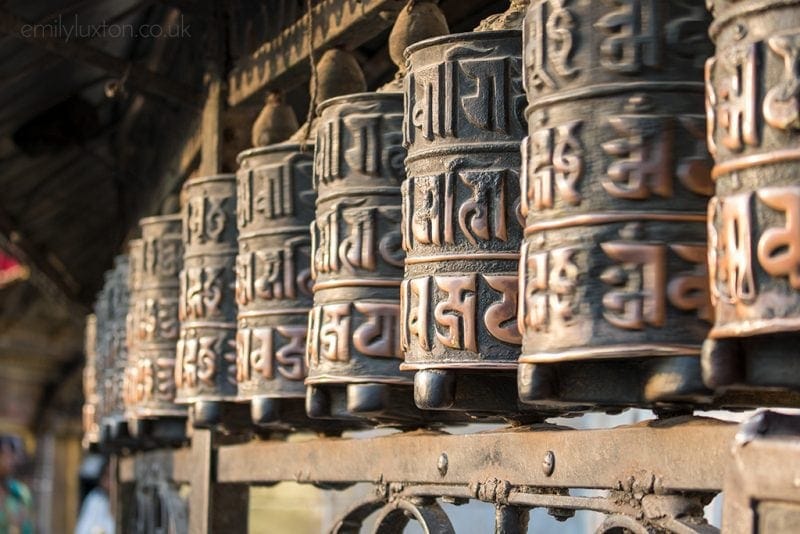 1 – Temples of Kathmandu
Chaotic, crowded, and at times bat-crap-crazy, Kathmandu is Nepal's wonderfully insane capital. Many visitors treat the city as nothing more than a jumping-off point for a trek, but there's so much more to it. Spend some time exploring the city, and in particular its incredible temples…
Boudhanath is perhaps the most famous of Kathmandu's Buddhist temples, and it's one of the most impressive sights in the city. The gold and white stupa is enormous, and the complex is bustling with devotees and fluttering prayer flags.
Swayambhunath, aka the Monkey Temple, is a Buddhist temple offering some amazing – if hazy – views of the city. And of course there are dozens of monkeys!
Pashupatinath is a sacred Hindu temple dedicated to Lord Pashupatinath. You can watch cremations being performed on the banks of the Bagmati River, and explore the crumbling stone buildings of this important Hindu site.
2 – Everest Mountain Flight
If you want to see Everest and the other Himalayan peaks, but you don't fancy trekking, there is another way. You can book an Everest Mountain Flight and see the giants from the air.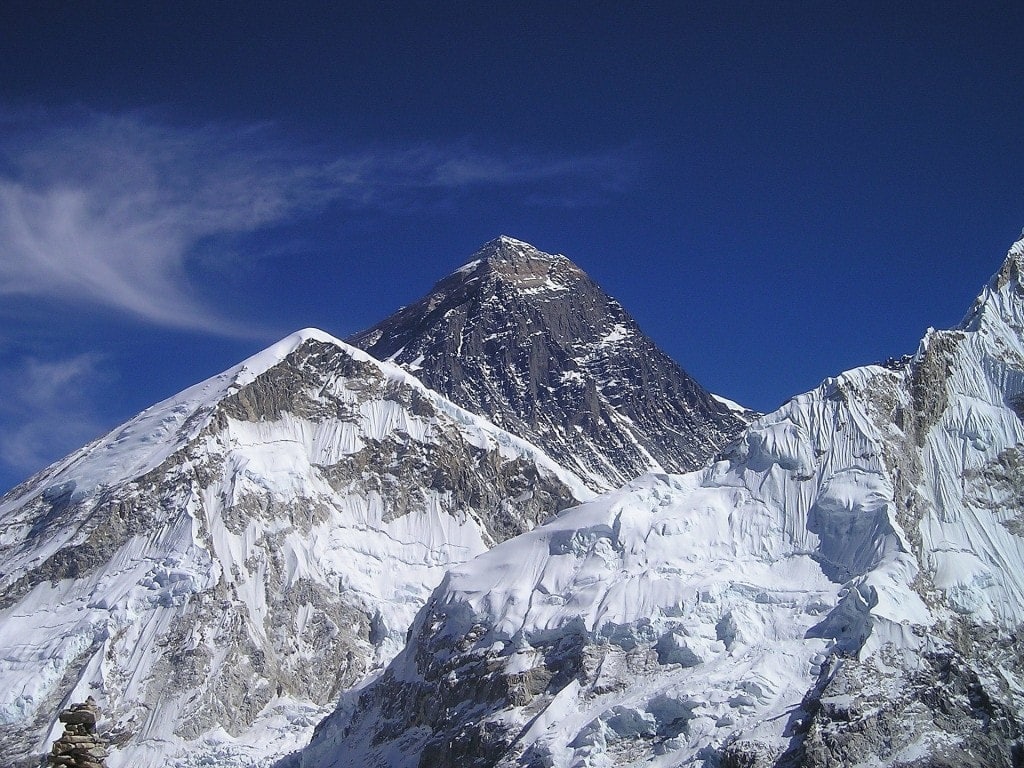 You'll spend an hour in the air, soaring past the peaks of the world's tallest mountain range, with the pilot and crew providing a narration so you know what you're looking at. And you'll earn yourself some serious travel bragging rights!
3 – Jungle Safari around National Park
It's not all about the Himalayas in Nepal – the country's topography is actually pretty varied. Down in the lowlands in the south of Nepal lies Chitwan National Park, a sprawling area of lush jungles and grassy plains that's just 415m above sea level. On a safari in Chitwan, you'll be able to spot rhinos, elephants, hundreds of bird species, and – if you're lucky – the elusive Bengal tiger.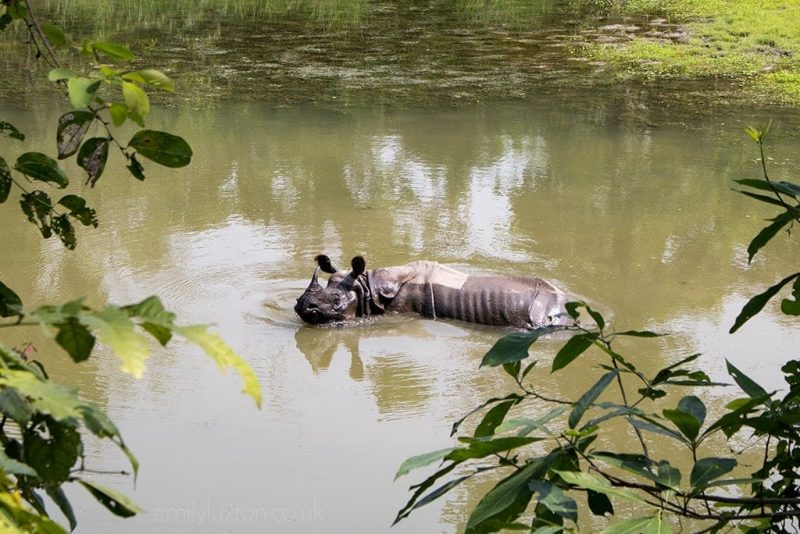 For the most dazzlingly luxurious safari experience in Chitwan, try Megauli Serai. This stunning lodge is from the famous Taj Safaris chain and they really know what they're doing. From the incredible villas (complete with private pools overlooking the park) to the faultless service, everything about my stay at Megauli Serai was amazing. Read the post to find out more!
4 – Motorbike Across Nepal
If you're looking for independence and adventure, why not rent a motorbike and set off across the country? That's what The Runaway Guide did and I was insanely jealous!
The winding mountain roads offer up some spectacular vistas, and it's a great way to explore with total freedom. Driving in Nepal probably isn't for the fainthearted, though; those roads can be dangerous and potholes are pretty common. But if you're looking for adventure and bragging rights this is for you. Ride toward beautiful far western hilly region of Nepal.
5 – Bungee Jump/Canyoning
When it comes to adrenaline-rushes and extreme sports, Nepal does not disappoint! Not far from Kathmandu is the adventure sports complex The Last Resort – where you'll find the world's ninth highest bungee jump. It's a 160m high jump into a tropical gorge above a raging river. Would you be brave enough?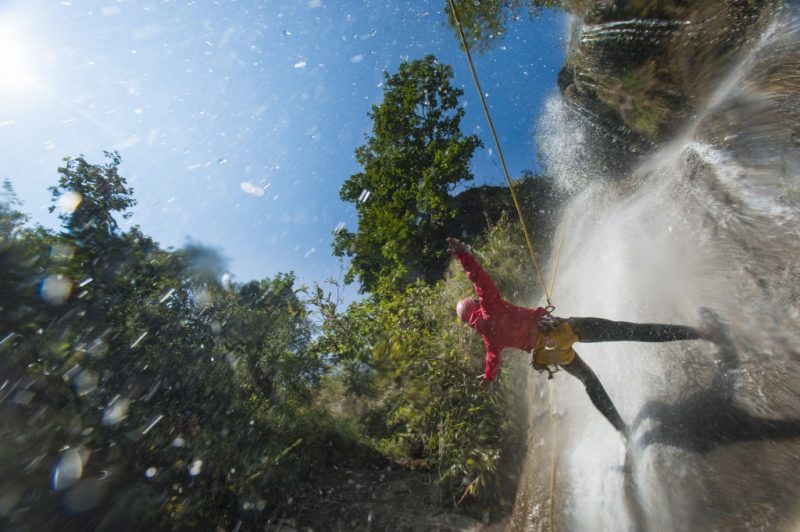 Both images by The Last Resort
6 – Water Rafting
Yet another way to get wet and wild in the Himalayas is with white water rafting. Nepal has numerous rivers to explore on rafting trips ranging from one day to a week or ten days.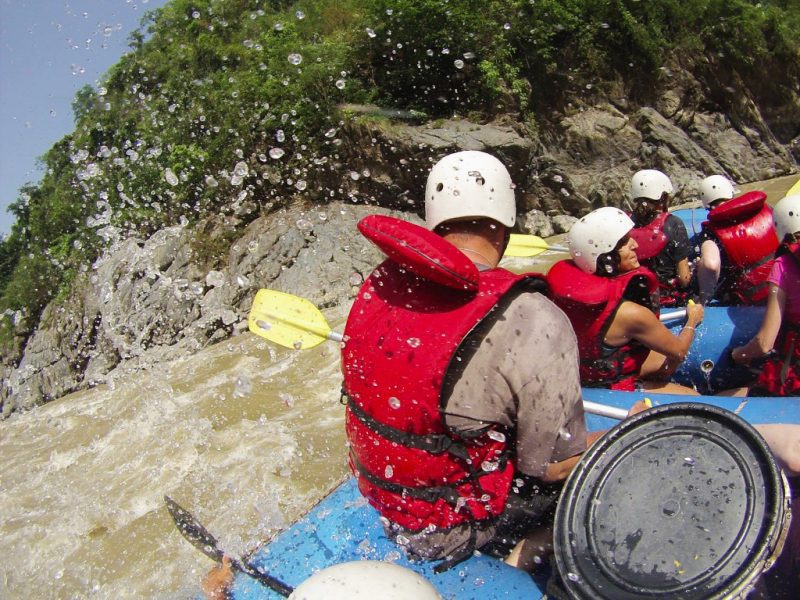 Image by Inma from A World to Travel
Try something new, and discover the beauty of the Himalayas from raging rivers fed by snow-melts and monsoon rains. White water rafting in Nepal is a real challenge, but it's a serious thrill and a great way to test your limits!
7 – Birthplace of Buddha
India might be more famous for its connections with Buddha, who lived most of his life there, but Nepal is where he was born. In the southwestern lowlands lies the city of Lumbini, where you'll find the Buddha's birthplace.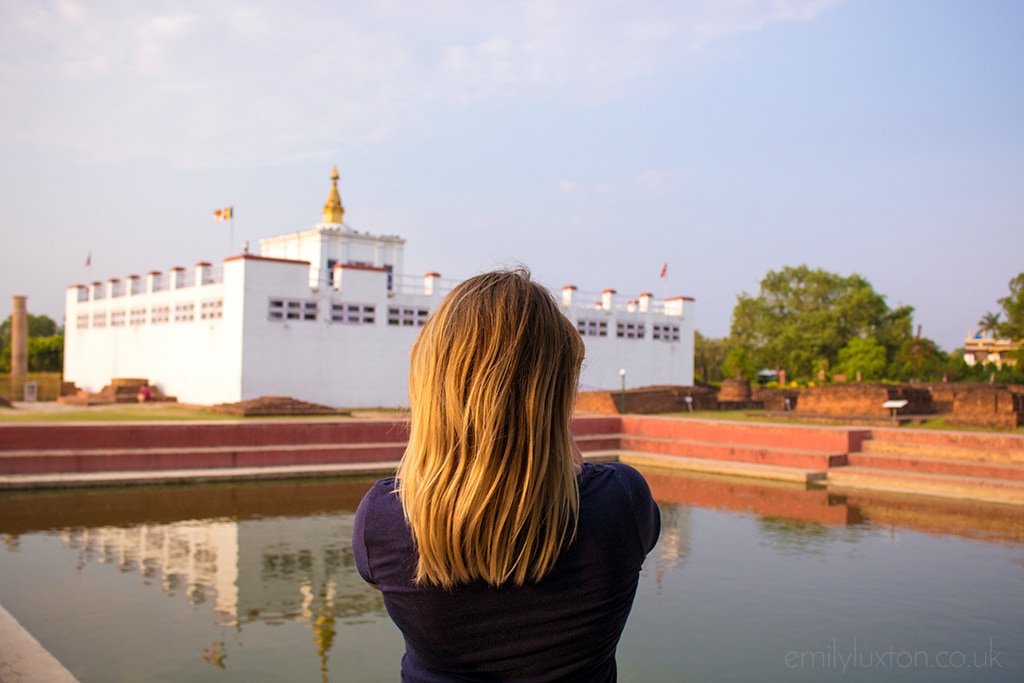 It's a sprawling complex of gardens, temples, and monasteries – and at the heart of it lies a small white building inside which are the archaeological remains of Buddha's birthplace. The woodlands behind the building are smothered in colourful chains of fluttering prayer flags, and the gardens are beautiful.
8 – Paragliding in Pokhara
Fancy an adrenaline hit on your Nepal trip? Why not take to the skies in Pokhara – which is considered one of the best places in the world for tandem paragliding! Thanks to relatively stable thermals, pretty decent weather year-round, and the safety net of Pokhara's huge blue lake, the city is perfect for paragliding. Throw in some seriously epic vies of the snow-capped mountains that surround Pokhara and you have the ideal recipe for an amazing paragliding session.
9 – Mountain Yoga
Yoga is all about connecting with the world around you. And what better way to do that than by practicing yoga outside, surrounded by the very best of the natural world? At various yoga retreats in Nepal you can learn and practice meditation, yoga, and spirituality whilst surrounded by the majesty of the Himalayas. Sadhana Yoga Retreat in Pokhara comes highly recommended, and offers everything from daily classes through to 21 day intensive courses.
10 – Discover Ayurveda
Dating back to the Vedic period, Ayurveda is the oldest authentically recorded science in existence. The goal is to achieve harmony between the four dimensions of health (body, senses, mind and spirit).
Book an excursion to meet traditional Ayurvedic healers and learn more about the natural medicines and ancient tools they use. Or treat yourself to an Ayurvedic massage – a key part of Ayurvedic therapy. It's a holistic massage treatment using essential oils and music to relax and restore.
11 – Visit the International Mountain Museum
Although this is a post about things to do in Nepal other than trekking, it's still pretty hard to escape the Himalayas. The world's tallest mountain range is one of the countries biggest draws, after all. For a better understanding of the mountains, head to the International Mountain Museum outside of Pokhara.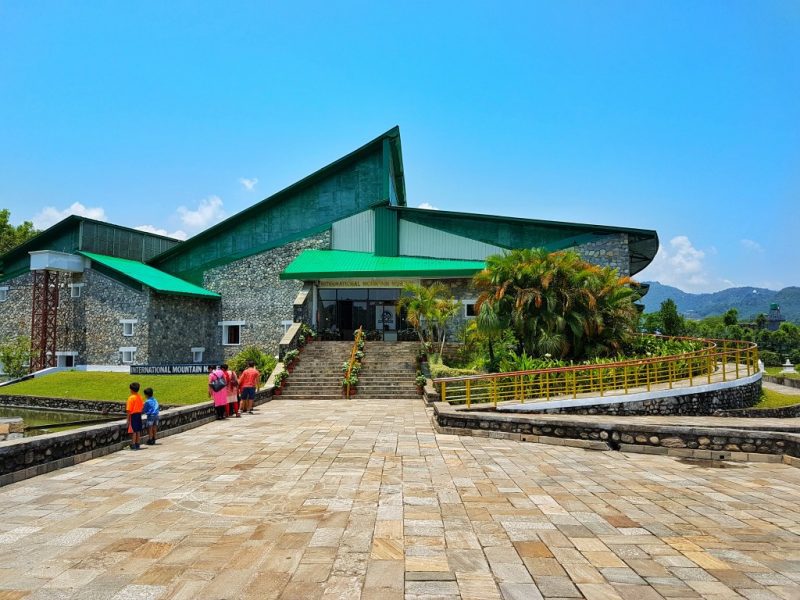 Not only does the museum cover everything from how the mountains formed to the cultures of the people who live on them, but there's also a huge exhibit dedicated to the long trekking history. Even if you're not going to conquer Everest yourself, it's interesting to learn more about the folks that have – and how they do it!
12 –Local Food in Kathmandu
Nepali cuisine gets a bit of a bad rap amongst travellers in my opinion – partly because trekkers often wind up eating the country's staple dal bhat for three meals a day during their trips. But this country has so much more to offer than the hearty lentil soup that's served with almost every meal.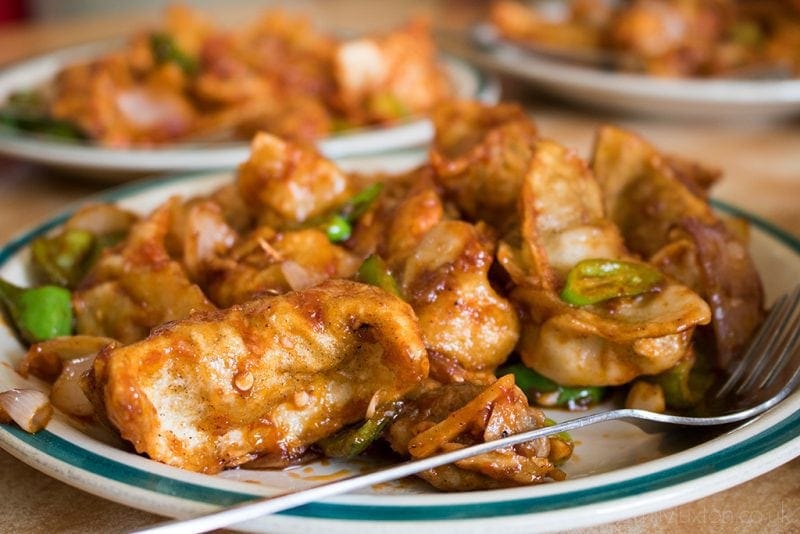 There are momos – my personal obsession – as well as rich curries and loads tastier dishes. Don't miss buffalo curry, sekuwa – spiced meat char-grilled over a natural log fire – or the spiced lentil patties known as bara. There's so much to discover, so check out Foodie Flashpacker's post about his food tour in Kathmandu to find out what you're missing. Or just book yourself onto the tour for a fab insight into the local cuisine.